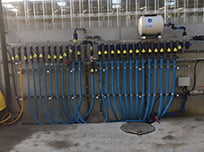 Parlour Washdown Systems designed and installed to suit your requirements. Our team ensure that your system is designed and installed so that it runs hassle free.
Supply and installation of submersible, borehole pumps, washpumps, booster pumps, transfer pumps, dirty water pumps, slurry pumps and all associated works and fittings.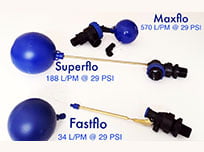 Fastflo Compact Trough/Tank Valve – With responsive on/off capabilities. Superflo Trough Valve – Reduces sticking and increases efficiencies. Maxflo – Less operating pressure required, reducing pumping costs and increasing flow.
PE Pressure Piping available in rolls and 6mtrs lengths, 16 bar rated and WRAS approved. PE dripline irrigation hose with inbuilt no clog drippers also available.
Compression fittings suitable for 25mm to 90mm piping. They can also be used on NG Alkothene up to 1 1/4″, 16 bar working pressure and fully WRAS approved.
Large range of Washdown and Industrial hosing in stock including Parlour Washdown Hose, EPDM Hose, Spiral Suction Hose, Pressure Hose, Layflat Hose and Garden Hose.
Full range of Hansen Valves and Fittings including nipples, sockets, bushes, tees, tank adapters, lever valves and check valves ex. Store or delivered.  Manufactured from high quality glass fibre reinforced nylon, WRAS approved. Heavy duty tapered threads give a strong, reliable seal.
We provide Electrofusion Welding to customers throughout Ireland. Our experienced team have all the knowledge and equipment for agricultural and commercial applications.