* Free next day delivery on all orders over €150 + VAT ordered before 2pm Monday to Thursday, Republic of Ireland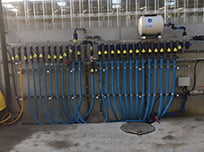 Parlour Washdown Systems designed and installed to suit your requirements. Our team ensure that your system is designed and installed so that it runs hassle free.
Supply and installation of submersible, borehole pumps, washpumps, booster pumps, transfer pumps, dirty water pumps, slurry pumps and all associated works and fittings.